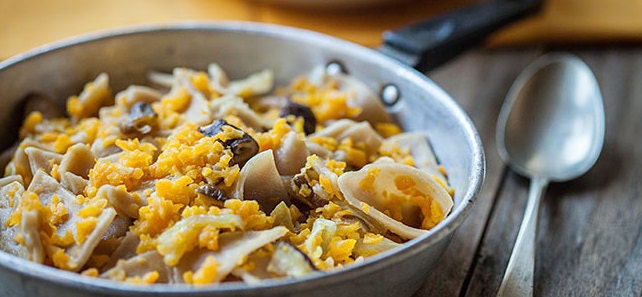 I love autumn because of its beautiful colors and food choices...one of them is chestnuts...I absolutely love eating chestnuts in all different ways...!!! This fresh chestnut pasta combined with the pumpkin sauce is just perfect to indulge yourself in autum...
SHOPPING LIST
Fresh chestnut pasta
1 cup semolina flour3.5 tbsp chestnut flour ( you can order it from www.laddhillchestnuts.com)5 ounces water1 pinch salt
Pumpkin sauce
1/2 pound butternut squash8 shiitake mushroomsextra virgin oil1/2 onions
Let's get cooking
Soak shiitake mushrooms in water. In a bowl mix the semolina flour, chestnut flour and salt, then slowly pour water into the mixture while your kneed mixture into a smooth dough. Form dough into a ball and let it rest for about 30 minutes.
How to make fresh chestnut pasta
1. Dust a wooden board with 1 tbsp of flour. Unwrap the dough and flatten it with a rolling pin. Roll out the dough into thin pasta sheets.2. If you have a pasta machine, divide the dough into 4 before rolling it out3. To cut the pasta sheets, roll the sheets up and cut into large 1/4 inch strips. Unravel the cut pasta strips and twirl into little nests. Dust the nests liberally with flour to stop them from sticking.
How to make the pumpkin sauce
Squeeze water out of shiitake and cut in small pieces. Cut onions in small pieces. Heat up olive oil in a saucepan add onions and cook until golden, add shiitakes and cook for 10 minutes. Peel pumpkins and take seeds and strings out, cut in small cubes and then add to the onions and shiitakes. Continue cooking for another 5 minutes, add a little bit of warm water if necessary.Cook the pasta in boiling salted water for 3–5 minutes before serving with the pumpkin sauce.It's so yummy....enjoy...
SWEET 💕 🐭 💕