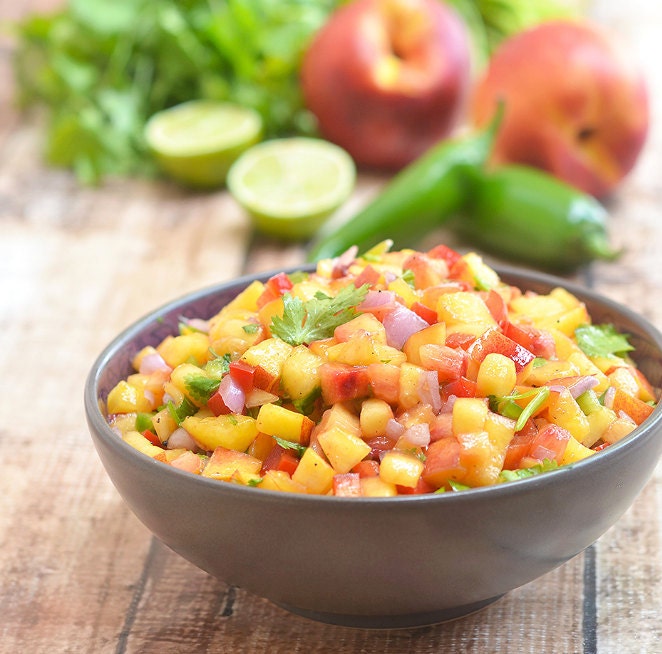 I just love nectarines they are so refreshing and tasty...
They are full of nutrients and antioxidants...nectarines come with a long list of health benefits and can make a tasty addition to everything. from the Did you know that nectarines are related to raspberries, pears, apricots and plums? There are many different nectarine types that can range in color from white to vibrant yellows and reds, though they all have similar health benefits. Nectarines can be a nutritious and delicious part of your diet...
High in antioxidants
Promotes better digestion
Aids in weight loss
Enhances eye health
Strengthens immune system
Stabilizes blood sugar
Improves heart health
Shopping List...
4 nectarines, pitted and diced
1 small red onion, peeled and diced
2 Jalapeno peppers, peeled and diced
1/2 bunch cilantro, stemmed and chopped ( I don't like cilantro, so I never add it to my dishes...this fro all you cilantro lovers out there...)
2 limes, juiced
1 tablespoon olive oil
1 teaspoon salt
1/4 teaspoon cayenne pepper
1/4 teaspoon pepper
Let's get started....
In a bowl, combine nectarines, red onions, Jalapeno peppers, cilantro, lime juice, olive oil, salt, cayenne pepper and ground pepper. Toss to combine.
Cover bowl and refrigerate for about 20 to 30 minutes to allow flavors to meld.
Enjoy...
SWEET  💕 🦄  💕 🍭 💕